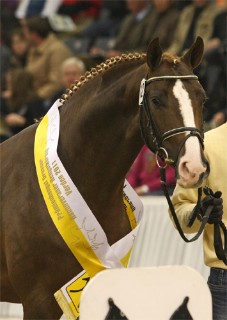 De L´Or
Han., Liver Chestnut, born 2009, 16'3 hh
Breeder: Hinrich Wülpern, Farven
Stud fee: 900 euro-fresh semen available mid March 2014
Approved for Hannover, Rheinland, Westphalia and all Southern German breeding societies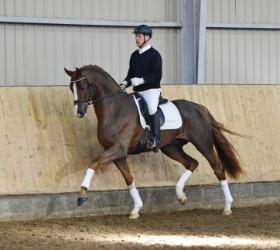 Celebrated premium stallion and undisputed highest seller at the 2011 Hanoveranian stallion licensing.
This discernible stallion will remain imprinted in everybodys memory. Firstly for his wonderful modern physique, secondly for the sheer scope of his exceptional movement. Already at the licensing it was impossible to prevent the eye from wandering to this luminous Mahogany stallion.
With exemplary self carriage and eagerness to please paired with his excellent basic qualities even shown in the hand it was possible to envisage an exciting career at high level sport.
If not before, in completing the 70 day test with consistent top marks (his character and enthusiasm to work being particulaly note worthy) it was confirmed that under saddle he could more than fulfilll all of the expectations placed on him.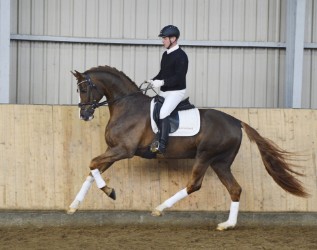 The sire of this stallion Dancier was in his time champion of the Verden licensing, 2006 stallion of the year and has produced many licensed stallions and innumerable horses selected for auction. Also the dam line (der Jucunde) through the state premium mare Rieke, has already enjoyed much success at the higher levels both in Dressage and Jumping (for example Espri de Luxe or Sasu (VA).
After De L'ors first breeding year, also active here in Germany, he became unavailable, but due to popular demand and a more than convincing first crop it is our pleasure to present this stallion by fresh Semen delivery.
Due to the succes in his pedigree and an unforgettable impression from the Verden licensing we offer, with De L'or, not only in sporting but also in breeding terms an exciting alternative for the forthcoming breeding season.
Gestüt W.M. GmbH, Zum Heidort 38, 27367 Reessum Tel. 0049 4264-37 07 94 or 0049 176-89 02 40 53